We are always looking to work with a diverse range of talent
Rewarding careers at Salix 
With offices based in London and Manchester, we have a range of challenging and rewarding careers on offer.
Our employees are integral to our reputation and we offer a variety of benefits, activities and training and development opportunities to ensure you excel in your role and enjoy your time working with us.
We are committed to equal opportunities, and we are proud of the diverse workforce we have and are devoted to continuing to grow the diversity of our people, promoting an inclusive culture.  Our values and behaviours, guide how we work with our clients, partners and funders, inform the type of work we do, and hold us accountable to do our best.
We want our workforce to represent the diversity of the people and communities we serve. We also want our workplace to be one where different experiences, expertise and perspectives are valued, and where everyone is encouraged to grow and develop and be empowered to achieve their full potential.
Whether you're keen to join as a graduate or bring a wealth of experience, we want to hear from you. If you're passionate about supporting the public sector to combat the climate crisis, then join us!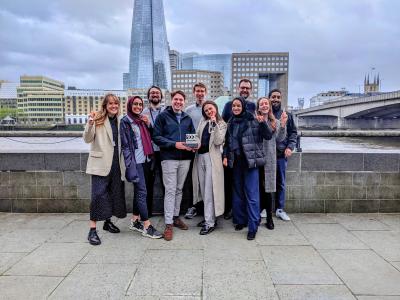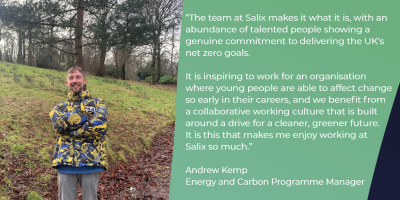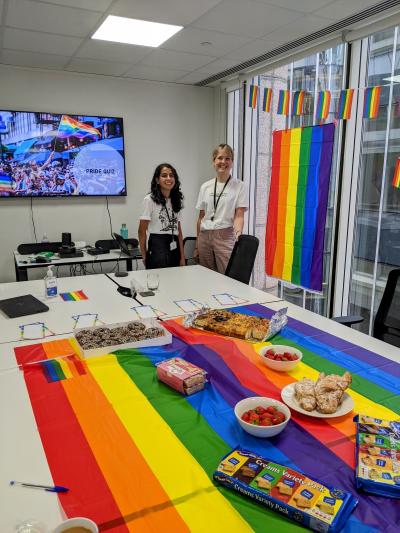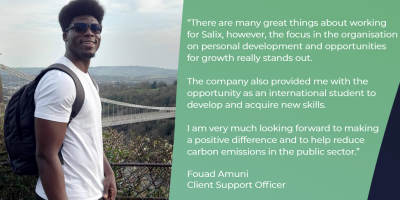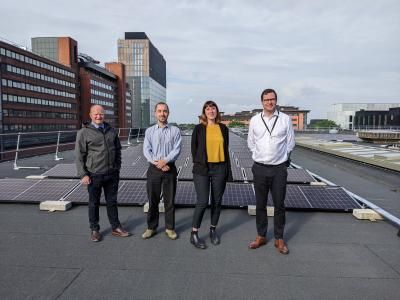 Our benefits
Generous annual leave 

Hybrid working

Pension scheme

Employee assistance programme

Life assurance cover

Employee benefits 

Enhanced maternity leave 

Paternity leave 

Bereavement leave

Cycle to work scheme

Healthcare services scheme

Flu vaccination

Eye test contributions

Shared parental leave 

Annual season ticket loan

Well-being initiatives

Training and development opportunities
Making an application
Open vacancies can be found below along with the documents required to apply.
We are committed to providing services which embrace diversity and which promote equality of opportunity and welcome applications from anyone who shares our commitment to inclusion. Our workforce is diverse, and we hope to attract applications from under-represented groups, including ethnic minorities, people with a disability, and people with gender-diverse identities. Our goal is to ensure that these commitments are also embedded in our day-to-day working practices with all our clients, colleagues and partners.
Please note you must have the right to work, as we are unable to sponsor visas. 
Successful candidates are required to undergo and pass a DBS and BPSS security check to be employed by Salix. This will be carried out as part of the reference process, on receipt of the signed acceptance of a conditional offer.
If you require information about any role or require information in an alternative format please email [email protected].
Keep up-to-date with the latest Salix opportunities by signing up to our newsletter or following us on Twitter or LinkedIn
Open vacancies
Summary of open vacancies 
Client Support Officer
Project Support Officer
Web Developer
Senior Energy and Carbon Analyst
Internal Auditor
Project Manager, Public Sector Decarbonisation Scheme
Head of Commercial - Housing Retrofit
Client Support Officer
We are looking for a client support officer who will be responsible for supporting and monitoring the delivery of UK public sector decarbonisation projects, which are funded through grants and loans programmes. You will be part of one of Salix's programme delivery teams, line managed by a programme coordinator and managed by a programme manager.
You will be an active member of the delivery team and attend team wide meetings as well as have the opportunity to be involved in projects that support the development of our processes and systems and making the company an even better place to work. The roles support the strong customer relationships we pride ourselves on, maintain accurate client data using the client relationship system and more!
Salary: Up to £26,000 per annum
Interviews are arranged by mutual consent
Project Support Officer
We are looking for experienced project support officers to be responsible for building and leveraging strong relationships with staff in our chosen Delivery Partner to; secure timely and transparent reporting and assurance, deliver effective performance management and advice, and execute impactful decision making.
Salary: £40,000 per annum
Interviews are arranged by mutual agreement
Location: Manchester
Web Developer
We are looking to welcome a web developer to this new post. As part of the IT transformation project, Salix is looking for a backend web developer. Reporting to the information systems manager, the purpose of the role is to work as the technical expert/lead for any project and development relative to web technologies (web portal, APIs, etc.). You will be supported by a team composed of business analysts, data analysts and junior staff and you will interact with stakeholders and external suppliers on a regular basis.
Salary: £35,000 - £40,000 per annum (depending on experience).
Interviews are arranged by mutual consent.
Location: Manchester or London, Canary Wharf
Senior Energy & Carbon Analyst
We are recruiting for the position of senior energy and carbon analyst who will work to company values and principles, and in doing so will be responsible for the coordination of the various activities undertaken by the energy and carbon technical team. The successful candidate will be acting as a single point of contact for updates on work in progress and liaising with all Salix programmes. This includes regular reporting of current activities; ensuring work is prioritised in line with the current workload and business objectives.
Salary: £30,000 per annum (pending review)
Interviews are arranged by mutual consent
Location: London, Canary Wharf
Internal Auditor
We are looking to welcome an experienced internal auditor into the audit team. The audit team's purpose is to deliver a programme of risk-based audits of the Salix grant-funded projects as well as internal audits of Salix's operations. The audits are a key part of Salix's role as delivery partner and delivery agent to DESNZ, providing assurance that grant funding has been used for the approved purpose and in accordance with the grant terms and conditions.
This is an exciting time to join the recently formed audit team, working with colleagues at the forefront of climate and energy adaptation. The team plays an important role not only in providing an efficient and effective audit service but also in providing feedback through lessons learned and control improvements.
The successful applicant will be a team player, pay close attention to detail and have the personal motivation to perform the role to the highest standards. You are punctual, flexible, and responsive in how you approach your work, able to take the initiative and complete your work independently. You will also work collaboratively across teams to support a proactive approach to risk management, fraud, and error mitigation in relation to the schemes.
Salary: £42,000 per annum
Interviews are arranged by mutual consent
Location: Manchester or London, Canary Wharf
Project Manager - Public Sector Decarbonisation Scheme
Salix is currently developing and planning potential new decarbonisation schemes with several of our funders, and we are looking for an experienced Project Manager to lead this work.
In this role you will lead the development of new public sector decarbonisation schemes, shaping the delivery strategy and supporting each of the projects through the different phases of the lifecycle.  This will include ensuring governance, financial, reporting and assurance procedures are followed, that the right project controls are in place, that appropriate internal scrutiny is carried out, and that the team is appropriately resourced, to drive the delivery of agreed benefits.
You will be responsible for, and expected to build, relationships with all supporting project-related and corporate functions including delivery partners and stakeholder.
Interviews are arranged by mutual consent
Location: Manchester or London, Canary Wharf
To learn more and apply for this post please contact

[email protected]
Head of Commercial - Housing Retrofit
We are looking for a head of commercial who will be responsible for supporting the UK government in driving the transition to a low-carbon future by delivering and administering grant and loan funding schemes on behalf of the Department for Energy Security and Net Zero, the Department for Education and the Scottish and Welsh Governments, to public sector organisations.
You will lead the commercial team and develop and implement commercial strategies and processes to ensure effective management of the professional services contract. Your role will be to build a strong relationship with the Department for Energy Security and Net Zero and external partners to position Salix as the go-to delivery agent for any forthcoming Housing retrofit schemes.
Interviews are arranged by mutual consent
Location: Manchester