Phase 3b Public Sector Decarbonisation Scheme
Monthly Monitoring Reports
The Monthly Monitoring Reports inform Salix of the progress of your project, the key risks and the forecasted payment claims in a standardised format. 
Each grant recipient should have received a Monthly Monitoring Report template tailored to their project and be in contact with a dedicated Salix relationship manager to support the delivery of their projects. In addition to regular calls and emails with the Salix relationship manager, we ask that a Monthly Monitoring Report is submitted for each Public Sector Decarbonisation Scheme project. 
The Monthly Monitoring Report includes guidance on how it should be completed. This is to be updated and submitted by email to your Salix relationship manager by the 15th of each calendar month. If the 15th falls on a bank holiday or weekend, we ask you provide it to your relationship manager the working day before the 15th. 
How to complete your Monthly Monitoring Report
Below is a video on how to complete and submit your monitoring report.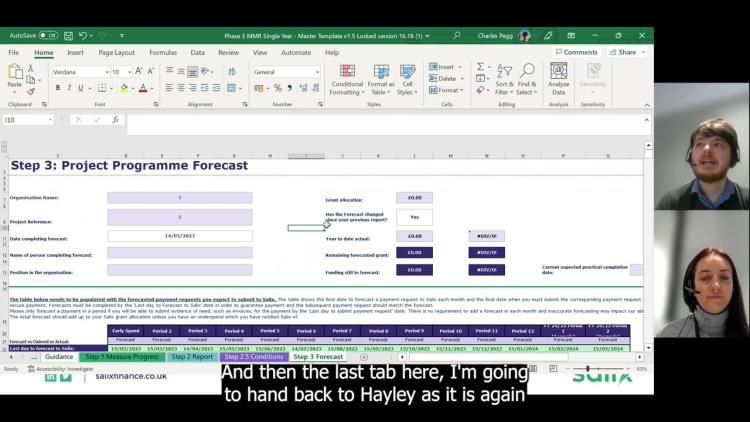 Frequently asked questions
The list of contacts comes from Salix's internal database. When a Monthly Monitoring Report with a new contact is submitted that new contact will be added to our system. This means the new contact will not be saved in the Monthly Monitoring Report however any future Monthly Monitoring Report's provided by Salix will include their details. For example, following a change request a new Monthly Monitoring Report will be generated and shared by Salix that will include an up-to-date list of contacts.
A project can have a practical completion date after the grant end date. However, the grant must be spent against costs incurred within the grant period (i.e. single year Phase 3b Public Sector Decarbonisation Scheme projects have a grant period from 1 April 2023 to 31 March 2024.) If your project completes after the grant end date, any costs must be covered by other funding sources. Reporting will still be a requirement until the practical completion of the project.  
We ask that you only forecast a payment in a period if you are confident that you will have invoices to submit prior to the payment request deadline. If you do not yet know when you will have invoices, it is fine to forecast your payment claims for later payment periods. These can be changed at a later date, as long as the forecast for the relevant payment period is updated prior to the deadline. If you have concerns about your forecast, please discuss this with your relationship manager. 
The Monthly Monitoring Report is required each month. There are no other monthly requirements for the Public Sector Decarbonisation Scheme. 
Yes, if the current Authorising Official for the project can provide, in writing, confirmation of who they would like to delegate responsibility to, then they can sign key documents on the behalf of the Authorising Official.  
Monthly Monitoring Reports are not expected during the planning year (i.e. the first year) of planning year projects however will be expected during the works year. Planning year projects will be expected to report progress throughout the year and more information will be provided in the near future.  
The forecast tab should only include your Public Sector Decarbonisation Scheme grant expenditure. If you can reclaim VAT and therefore have not included it in your grant application, then it should not be included in your forecast. If you cannot reclaim VAT and therefore have included it in your grant application, then it should be included in the forecast tab.  
There is no stipulation on the order in which you spend grant funding or your internal match funding. However, we would reiterate that grant funding can only be used for expenditure up to the grant end date, therefore some grant recipients may wish to reduce the risk of not being able to use their full grant funding by drawing this down before using their internal match funding.  
The Monthly Monitoring Report is a requirement of the funding. We understand extenuating circumstances may prevent submission and if this is the case it should be communicated to your relationship manager as soon as possible. In any month when an Monthly Monitoring Report is not submitted, we will also not accept any payment requests. If Monthly Monitoring Reports are not provided in sequential months an escalation letter will be issued to the projects Authorising Official.