Phase 3c Public Sector Decarbonisation Scheme
The applicant journey timeline
Introduction
Welcome to the Phase 3c Public Sector Decarbonisation Scheme planner. The timeline below has been designed to help you progress through your project journey. We have also included key deadlines, as well as useful documents. Please read the Phase 3c Public Sector Decarbonisation Scheme Guidance document for more detailed information on this scheme.
Step 1
Identification of a suitable building/site
The process of creating a successful Public Sector Decarbonisation Scheme project must start with identifying the organisation's suitable buildings for a heat decarbonisation project. A suitable building should follow the eligibility and project criteria detailed in the Guidance Notes (Section 4).
Applicants should prioritise buildings based on the following criteria:
Condition and age of the existing fossil fuel heating plant

Building retention and occupation
Applicants who have participated in the Low Carbon Skills Fund are encouraged to use their existing Heat Decarbonisation Plans (HDPs) in their Public Sector Decarbonisation Scheme application.
Step 2
Internal discussions and decision making
At this stage, it is important to establish the internal governance structure that will lead the initial discussions. This includes:
Establishing an Authorising Official who has the authority to approve and sign-off on official finance and legal documentation.

Establishing a main contact, who will be responsible for overseeing the project and who will be in regular contact with Salix.

Developing and understanding the process for securing internal board approval.

Early engagement with the internal procurement department.
Step 3
Sign up to introductory webinars
Salix will be hosting webinars to provide guidance and support to eligible applicants. These webinars are designed to provide guidance on the funding scheme, provide an opportunity for applicants to meet the team at Salix, as well as hear from government representatives.
Step 4
Watch our guidance videos
We have created a series of guidance videos that takes you through the application form for Phase 3c of the Public Sector Decarbonisation Scheme. We strongly recommend you watch these videos to familiarise yourself with the application process.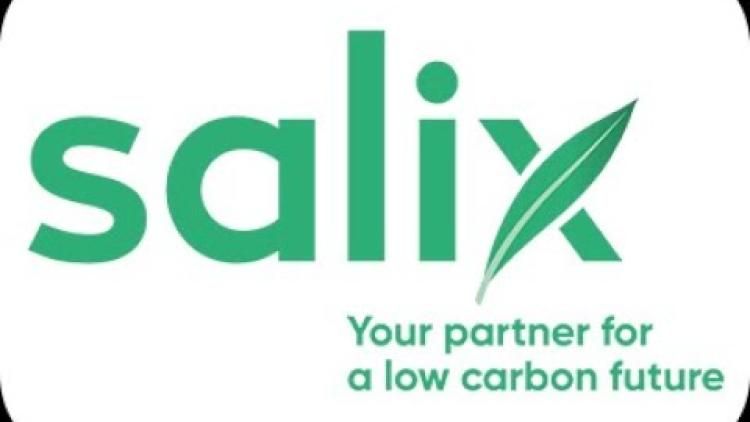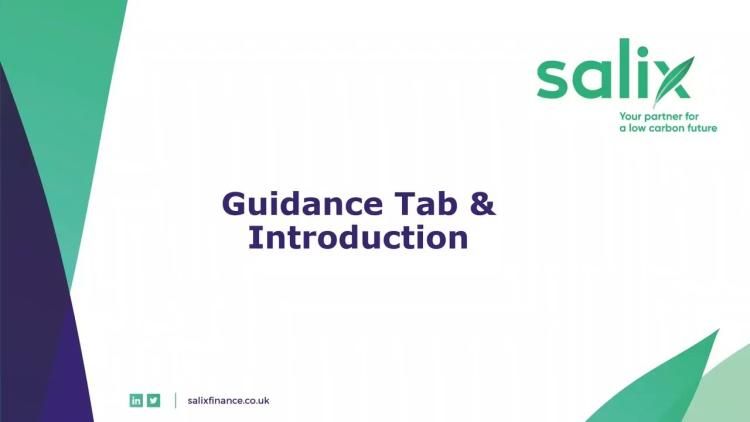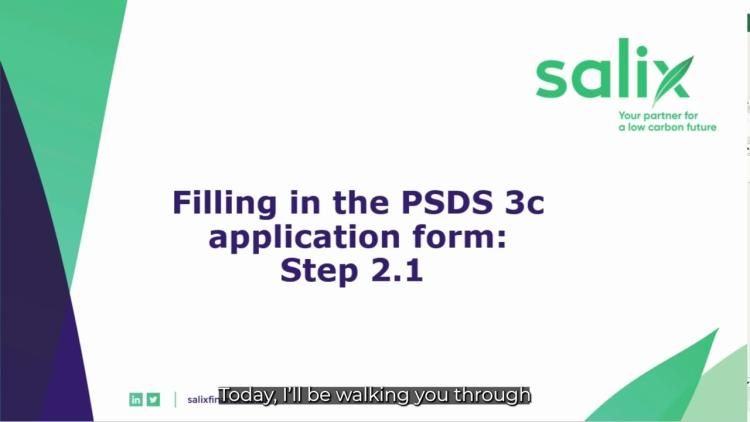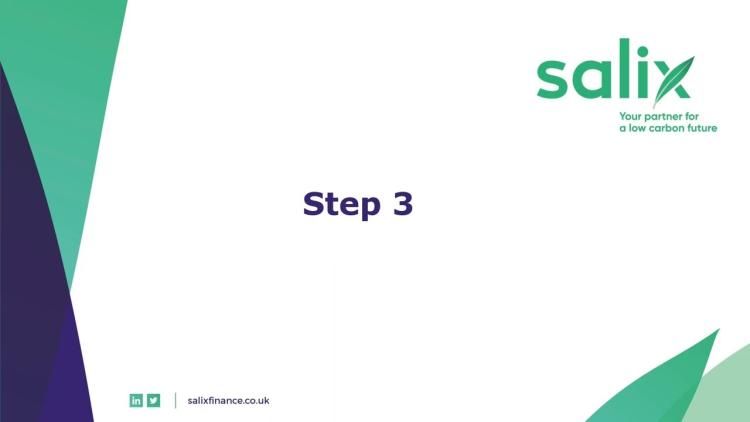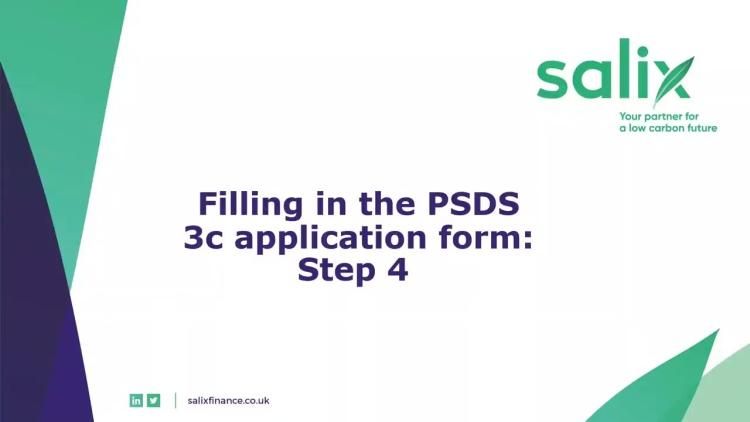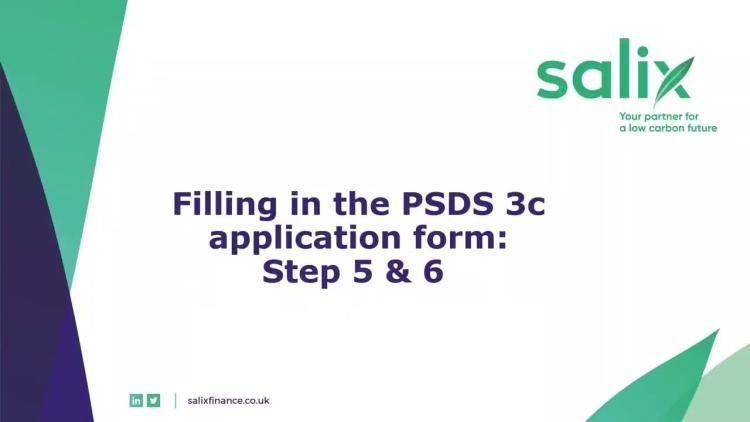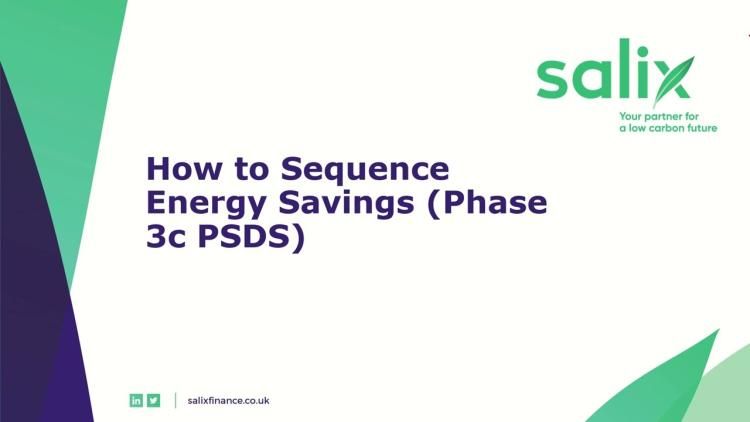 Step 5
Register for a Salix account
To access the Salix Application Portal you will be required to log in with a Salix account. If you have an existing account, please do check your log in details prior to the Application Portal opening. If you do not have a Salix account, you can register for one. 
Salix reserves the right to withdraw any application that is not created by a member of the public sector organisation due to receive the grant.
Frequently asked questions
Your login and password are the same as when you applied for a previous funding scheme. Please go to the Salix Application Portal and check you have the correct username and password. Once you have logged in you will be able to view your application history through "My Salix." Check your login.
Yes, you can reset your password.  You should recieve an authomatic email asking you to reset your password, if you have not recieved one please email [email protected] for further help. 
Step 6
Considerations for initial project design
Phase 3c of the Public Sector Decarbonisation Scheme was announced on Wednesday 12 July 2023. The application window for Phase 3c of the Public Sector Decarbonisation Scheme will be reopened on Tuesday 7 November at 2pm and the Application Portal will close on Friday 10 November at 2pm. 
Applicants are encouraged to become familiar with the scheme Guidance Notes, Terms and Conditions, Application Form and required supporting documents. During this time, collect all the required documents, think about the quality of your project, and the steps you have taken to ensure its deliverability by the required deadlines.
Consortium bids are required to complete the Consortium Documentation tab of the Application Form as part of their Phase 3c Public Sector Decarbonisation Scheme application.
Key considerations:
Collecting buildings baseline information (heating and electric consumption, building fabric information and heating plant details).

Ensuring the buildings are suitable for low-carbon heating plant, assessed through detailed building surveys and feasibility studies.

Ensuring the employment of a whole-building approach to reduce the building's heating and electrical demand.

Identifying the most effective low carbon heating solution (I.e., using an options appraisal of heating options and domestic hot water requirements).

Producing detailed feasibility studies (pre-tender) or detailed designs (post-tender) for the low carbon solution identified.

Collecting all the required supporting evidence and information, in the accepted formats

Assessing current and required electrical capacity and early engagement with the Distribution Network Operator.

Assessing the organisation's capacity to cover the required applicant contribution by calculating the total project value, grant value and required 12% applicant contribution. This can be done by obtaining preliminary quotes for project costs and adding these to a copy of the Phase 3c Public Sector Decarbonisation Scheme Application Form.
Step 7
Application Portal opening
Once the Application Portal opens, all applicants must log into their accounts to begin the application process. Applicants must fill out the key information and attach all the required and supporting documents.
The application process must be completed by the public sector organisation, not the consultants involved in the project.
With all the information correctly completed and the documents submitted, applicants can confirm and send their application. Please note that while applicants can submit more than one application, any duplicates will be withdrawn.
Once the application has been submitted, applicants will receive an Authorisation and Counter Fraud Declaration email, that must be approved and responded to by the Authorising Official within 10 working days.
Step 8
Initial quality checks
After the Application Portal closes, the Salix team will begin initial quality checks on applications, on a first come first served basis.
This assessment involves checking the information that was provided on the Application Portal and resolving any errors that may arise. If an application fails at this stage, it will be withdrawn from the scheme.
The project status will be available on the Salix portal, so you will be able to review where your application is.
Projects that have failed will be formally notified via email.
Step 9
Project assessment
At this stage, projects will be assessed on a technical and delivery basis. Projects will be subject to queries from our assessors and will undergo a "Delivery Call" with the Applicants will the assigned Relationship Managers. It is crucial that applicants are available to respond to queries and that any risks or issues are flagged at this stage.
The project status will be available on the Salix portal, so you will be able to review where your application is.
Step 10
Awarding Grant Offer Letters
If a project passes assessment, and provided it falls in the available funding pot, it will be awarded a Grant Offer Letter. These letters detail key information about the grant, as well as the specific aspects of the project, and they must be signed though DocuSign by the Authorising Official within 10 working days of being sent. Grant Offer Letters will also stipulate the project specific conditions that must be met by the grant holders. These will be a requirement for every project.
Step 11
Project delivery
At this stage, projects will be supported by the relationship managers allocated to them. Grant Recipients will be required to produce Monthly Monitoring Reports and to provide information on the project development, identifying key changes and possible obstacles. Grant Recipients will also be required to provide evidence to fulfil the conditions outlined in the Grant Offer Letter, at the date these are outlined in the document. Provided all documentation is in order, Grant Recipients can begin making payment requests and drawing down funds to deliver their projects.
*Project changes must be flagged with relationship managers and formally submitted as a Change Request (scope changes are subject to a technical reassessment).
Below you will be able to find the Phase 3b guidance for Monthly Monitoring Reports and Requesting Salix funds. While we are expecting to update these in due course, you can review them as a guide on what to expect during project delivery.
Monthly Monitoring Reports
Requesting Salix funds
Change Requests
Step 12
Completion process
The grant period for Phase 3c of the Public Sector Decarbonisation Scheme will end on 31 March 2026. For the completion process to take place, clients must provide the following documents:
Final invoices and statement of expenditure

Evidence to close any outstanding conditions

Photographic evidence of measures installed

Contractor completion certificates of installation
Step 13
Ongoing monitoring and reporting
Applicants will be required to provide monitoring data for three years post–installation to inform whether the measures have achieved their expected outcome. Reporting will be made on an annual basis.
Key items to report:
The outcomes of the measures (information will be distributed to the grant recipient).

Any retention payments to contractors (

 

information will be distributed to the grant recipient).
Information on Audits
As stewards of public money, Salix has the responsibility to ensure that all grants are being used correctly. Salix audits a sample of grants and reports the audit outcome to the Department for Energy Security and Net Zero. This ensures that public money is safeguarded, grant outcomes are achieved and informs future programmes and guidance. Non-compliance or breaches to the scheme conditions may result in the recovery of funds.
All grant recipients should maintain accurate records of costs and expenditure so these can be produced should they be audited. The audits also comprise a site visit by technical consultants to confirm the project implementation. These can take place during project implementation or at project completion.
Key records and documents (non-extensive):
Procurement records

Tender documents

Financial documents

Breakdown of costs
Contact us
Phase 3c Public Sector Decarbonisation Scheme
Communications
Other pages in this section